"Houston, we have a solution!" Enhance Machine Reliability with
Our Proactive Services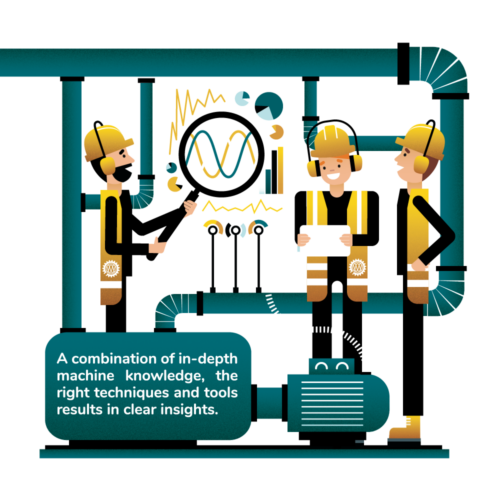 Are you facing uncertainties about the reliability of your machines? No need to worry any longer! We are here to provide the perfect solution to put your mind at ease. Our team of experts specializes in diagnosing aberrant machine behavior on a system-level, identifying root causes, and implementing proactive measures to ensure uninterrupted operations.
Why Choose Us?
Comprehensive Diagnosis: Our skilled professionals thoroughly analyze your machines to identify any issues affecting their performance. We leave no stone unturned in our pursuit of discovering potential problems.
Proactive Solutions: Say goodbye to frequent breakdowns and reactive maintenance costs! Our proactive approach not only addresses current issues but also helps prevent future failures, saving you time and money.
Increased Asset Value: By ensuring the operational reliability of your assets, we enhance their value and help you get the most out of your investments.
Unparalleled Expertise: With years of experience and cutting-edge technology, our team brings industry-leading expertise to every project.
What You Can Expect:
Actionable Recommendations: We provide you with practical steps to bolster the reliability of your machines, ensuring they operate optimally.
Permanent Elimination of Failure Modes: Our solutions go beyond quick fixes; we focus on eradicating failure modes at their roots for long-term benefits.
Reduced Reactive Maintenance Costs: Minimize unexpected downtime and repair expenses, making your operations more cost-efficient.
Empowered Stakeholders: Your stakeholders will appreciate the improved reliability and reduced frustrations, leading to a more positive work environment.
Clear Insights: We offer transparent reporting, keeping you informed about our diagnosis process and the path towards implementing solutions.
At Orbits, we take pride in providing top-notch services and building strong partnerships with our clients. We believe in delivering results that go beyond expectations, ensuring your machines operate at their best.
Let's join hands to create a future where your machines run flawlessly. Reach out to us today for a consultation, and together, we will secure the reliability of your valuable assets.